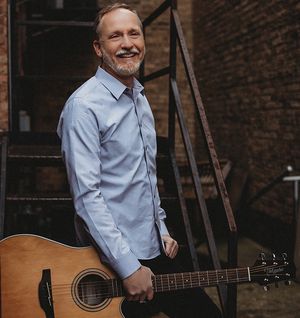 Tim has been writing, recording, and performing his brand of "americana pop" for over twenty years as one of the creative forces behind indie band The Vinyl Goods. His songs blend driving acoustic rhythms and melodies with memorable lyrics and vocal harmonies to create a wonderful musical tapestry.  
Based in the Chicago area, Tim's songwriting influences range from classis rock artists such as Jim Croce, the Beatles, and Bruce Springsteen to more contemporary songwriters like Ben Rector and Taylor Swift. 
While Tim continues to write, record and perform with his band, The Vinyl Goods, he recently started broadening his artistic output through the release of solo material. His first solo release, "Wherever This Will Lead" is a very personal track he wrote for his wife and played for her when he proposed. His second release, the 3-song EP "The Bunker Sessions Vol. 1" comes from a live acoustic performance recorded at The Bunker in Campton Hills, Illinois. His third release, the 3-song EP "A Brand New Day" features a collection of original, rocking, Christmas songs based on the Christmas story in the Bible.
Tim's catalog of original material contains over 100 songs and his band independently released 5 albums, 2 EPs, and a flurry of singles. His music has reached a worldwide audience through the magic of the internet. The band is currently recording their 6th full-length album in Tim's home studio and Tim is concurrently recording tracks to release through his solo channel as well.